Okay, so this website has been pretty dormant for a while. There's a couple of reasons for this:
Something got majorly broken in the website and I was literally unable to update any webcomic. No idea what happened. I actually have no idea how it got fixed. It just… Got fixed. So yay! Hopefully, you've been keeping up with Ensign Cubed on Kevin's website. But if not, it is not available here.
I had a rough first half of the year. Of course, I made a very long post about Asha. Not long after, we lost my grandfather and one of our other beloved kitties, Guinea. Everything kind of left me very unenthusiastic about doing… Well, anything.
But the website is back on track and so am I. Things are doing a lot better now. I've started working again. My store is quite filled with new stuff (check it out either through the store button or directly through Etsy).
One thing of great note in the store….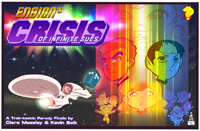 Ensign3 is now available!

The final webcomic won't post until December, but you can read it now by picking it up in comic form! For those of you who don't have the first two volumes of this epic saga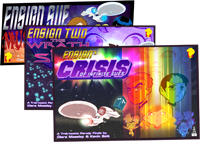 There is also a combo pack…
So hopefully the website (and myself) will stay unbroken and I will be able to keep making updates.